Add to basketRemove from basket
Summmary – "If you like power you'll love the Quad Bikes Gdansk Event"
The Quad bike is still one of the most popular activities for companies and groups. It doesn't fail to deliver for anyone hoping to get the thrill. Speed demons will love the power element of the quad, while the more reserved rider will relish the technical aspect.
With the standard 30 minutes Quad bike session, you'll take to a purpose built dirt track. This is give you the chance to tame the beast and open her up.
With the 60 minutes sessions, it is a whole different Quad bike experience. You will go off road on a safari adventure with a qualified guide who will help you to really test and push the quads to the limit.
Prices are as follows:
30 minutes track event – 29 GBP
60 minutes off-road safari – 55 GBP
Price includes the following:
✓ Quad basic training
✓ Head gear
✓ Safari guide (for off road safari)
Extras
Mixed grill lunch + beer x2 – 12 GBP per person
Activity transfer
Not included in price but available on request
Combination saving discount
10% off group paintball when purchased with quad bikes.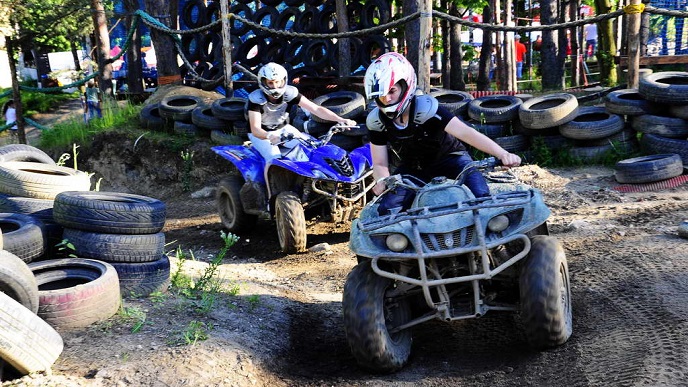 For more information about the ATV Quad bikes in Gdansk event or any of our activities in Poland, please contact our team.